My favourite Place to Run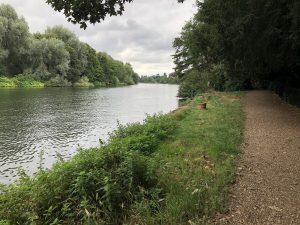 On various work trips or family holidays, I've been lucky enough to run in some pretty cool places, taking in sights such as the Sydney Opera House, Lake Geneva, the Coliseum in Rome, the beaches in Croatia, and closer to home the rugged coastline of Devon and Cornwall in England. All of these (and many I've probably missed) were special for all sorts of reasons.
Whilst the above locations would definitely fall under the 'most memorable' run category, if I were under pain of blister to pick a favourite place it would probably be considered a rather boring choice as it's right on my doorstep and is the River Thames towpath in Berkshire. What makes this run so special for me is largely driven by the changing of the seasons; I've slipped and slushed along it in my trail shoes in the depths of winter and bounded along it on a summers morning just as the sun cuts through the trees. I've tripped on roots and ran over depleted Autumnal leaves and dashed past the daffodils of early spring. Each run seems different, each run seems memorable. And although it's always the same route there isn't the same monotony as a road run for me. Following a brief look at the Strava history, I have probably run along the river 100s of times over the last 10 years and I can honestly say that I never get bored of it.
What also helps is that I love running by the water. Whether it is a *lake, river, or Ocean I find it a most calming influence.
So that is my favourite run. Let us know yours by submitting a paragraph or two explaining why it's so special and feel free to include some pics so we can share with our readers.
* this excluded Dorney Lake in Berkshire following a particularly harrowing half marathon attempt around the wind battered rowing lake.